Revitalizing Communities through Art: The Inspiration Behind CAPREIT's Bonaventure Estates Mural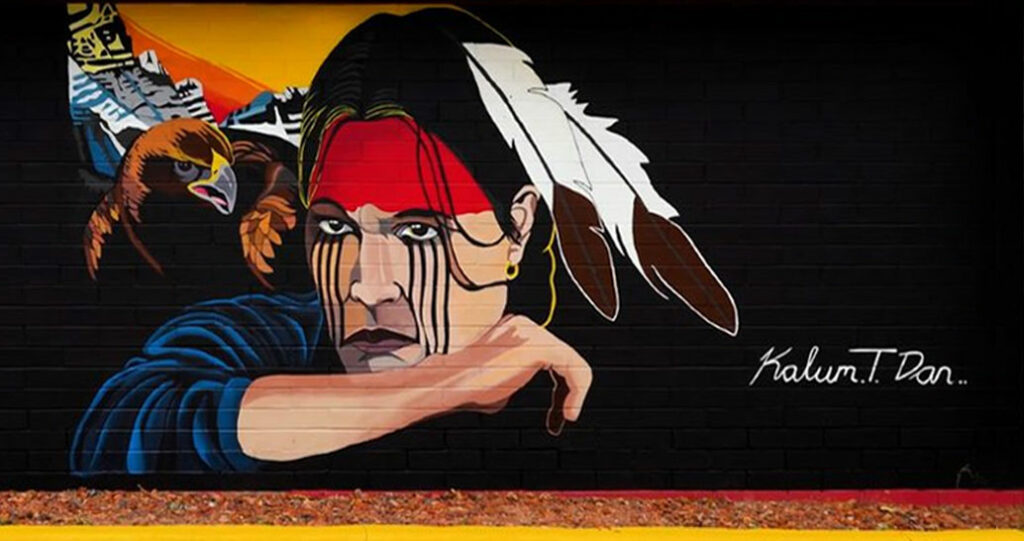 At CAPREIT we believe in the importance of investing in our communities.
As this is a core value, Senior Director of Operations, Nancy Hosford, sought opportunities to add some personality to our outdoor spaces and celebrate local artists. Long before CAPREIT launched an initiative to learn more about the history of Indigenous Peoples in Canada with the induction of our Indigenous Speaker Series, Nancy knew that it was crucial to include Indigenous artists in her plans.
The Indigenous Speaker Series was incredibly inspiring for all employees, leading them on a journey of simultaneous unlearning and education. It is this journey that propelled Nancy's initiative forward. First, she identified the perfect place for a mural: Bonaventure Estates. Located in the mature neighborhood, of Acadia, in southeast Calgary, the mural would be on an east-facing exterior wall with high visibility to motorists commuting on Bonaventure Drive. She knew the location, but now she needed to find the artist.   
Commissioning Kalum Teke Dan
Not sure where to find an artist to paint a large mural, Nancy started her search online. She also kept her eyes out when she would tour CAPREIT properties in Calgary noticing murals painted throughout the city.
Eventually, she found several news articles highlighting Kalum Teke Dan's mural work throughout the city of Calgary and felt that his work would bring colour and messaging aligned perfectly with the community culture at Bonaventure Estates.
Explore more of Kalum Teke Dan's artwork here: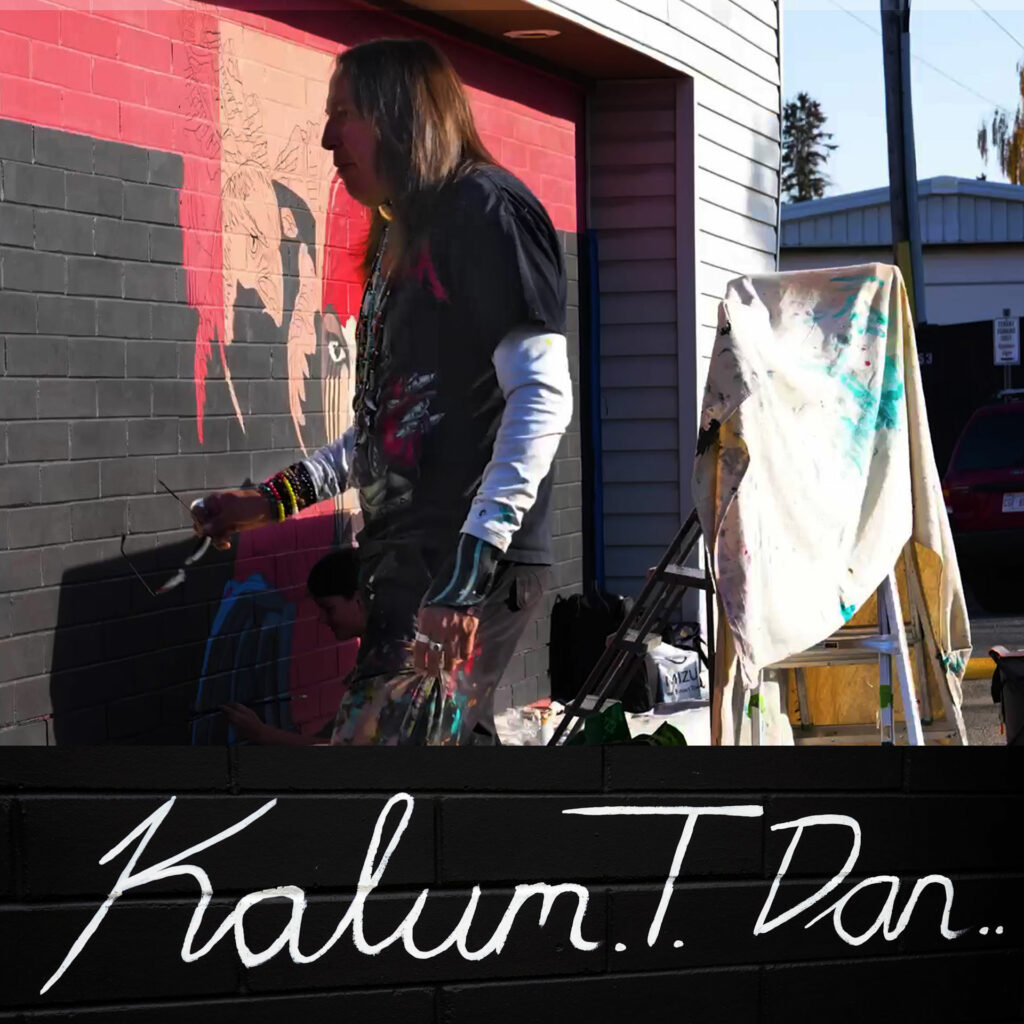 A voice for Indigenous Peoples
Kalum Teke Dan is an important voice for Indigenous Peoples, expressing his wisdom through elemental design in his art. Carefully curating his visions through learning about the land, the plants, and the stories passed down by Elders.
Kalum is passionate about inspiring youth through his art encouraging them to embrace Indigenous knowledge. One of Kalum Teke Dan's next projects, in partnership with the Calgary Winter Club, will be to help tell the Treaty 7 Indigenous legacies left in Nose Hill Park, like the Medicine Wheel.
The story behind the mural
We sought Kalum's recommendation on which piece would best fit the intention for the space and he selected "Warriors Dream". There comes a time in every person's life where they develop from a child towards adulthood.
In some Indigenous cultures, there is a ceremony where their individual talents are celebrated at this time in their life. Kalum Teke Dan's painting "Warriors Dream" represents a dream had by a youth on that very journey toward adulthood. In this dream they are guided by their spirit animal, a golden eagle, toward their future.
What is your spirit animal?
Spirit animals are different for every individual and, if you pay attention, you can figure out what your spirit animal is. Kalum Teke Dan encourages people to pay attention to their dreams (dreams can tell you a lot), notice which animal they're drawn to, or research the characteristics of the animal they feel could be their spirit animal. He says that everything is connected: your mental, physical, and spiritual being – life is a full circle and everything ties into nature
Timelapse: Kalum Tiki Dan's Warriors Dream mural at Bonaventure Estates in Calgary
Sourcing paints on the prairies
The facial markings depicted in "Warriors Dream" are traditional to the Blood Tribe where ceremonial markings are typically tied to the family or roles defined by spiritual leaders. While tattoos have been used with other Tribes, Kalum Teke Dan says painting is most common within his Tribe.
Paints were made with pigmentation developed from Earth's gifts found in Southern Alberta. This could include minerals such as yellow or red clay harvested from below the ground or through the use of berries and plants to make other colors.
The lost knowledge of plants
Every plant is a medicine and have a role they play within nature; however, this knowledge of plants was lost when Indigenous Peoples were forced to adapt to Western teachings. Many years have passed and although much of this knowledge has been lost, today's generations are fighting to regain the knowledge of their ancestors through programs like the Campus Ecology Project at the University of Lethbridge where participants work closely with Blackfoot Elders and Knowledge Keepers.
How residents are reacting
The residents at Bonaventure Estates are so happy to see the unused space go to such a beautiful mural. The feedback has been resoundingly positive and they are very protective of the art, keeping a close eye to ensure it is not defaced by vandals.
At CAPREIT, we look forward to many future investments in properties across our portfolio.
To learn more about CAPREIT's Environment Social Governance (ESG) campaigns: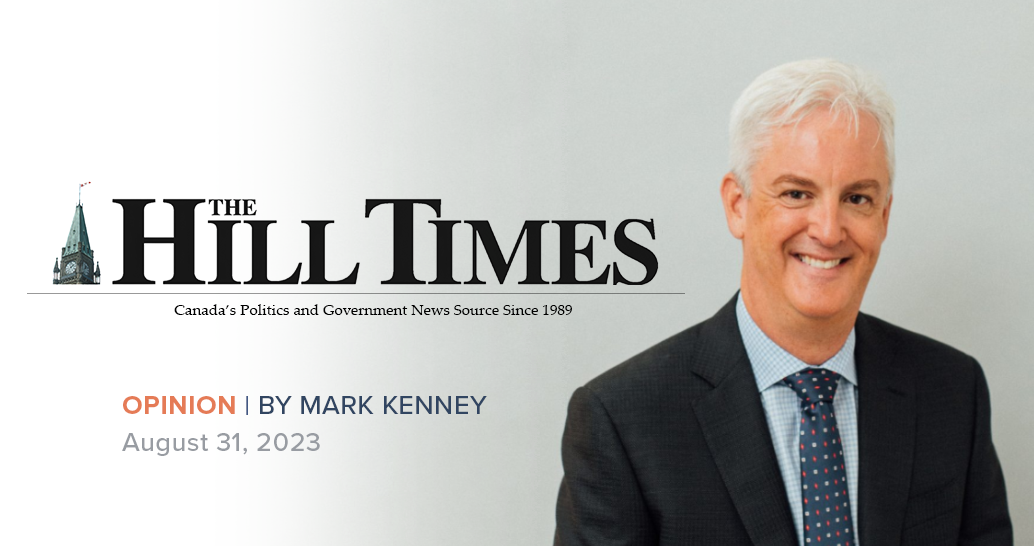 Op-ed published in The Hill Times. Expanded immigration can work hand-in-hand with the construction industry's goals to open the way to uild the 3.5 million additional homes we need above the current pace of construction.