Community Spotlight: Woodridge Place, PEI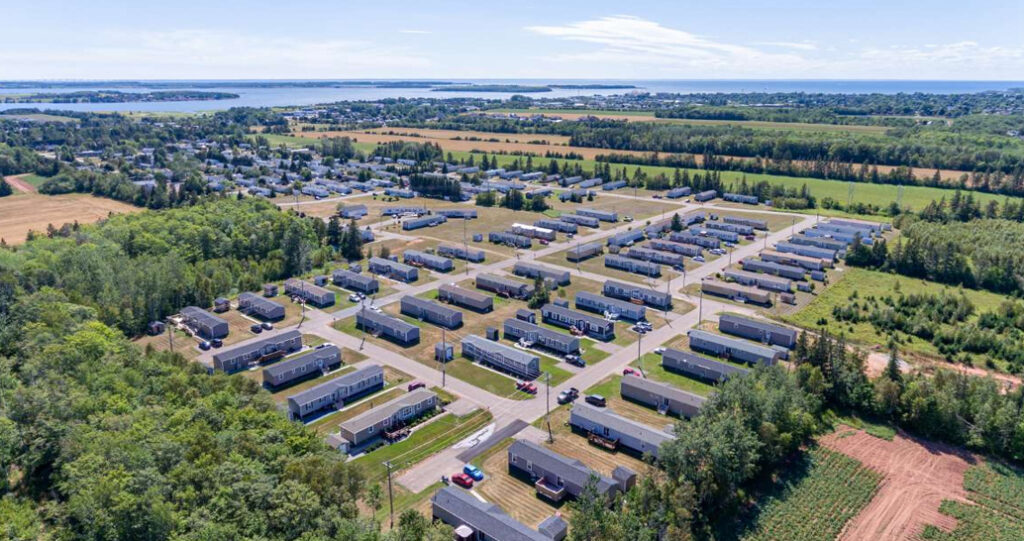 Searching for an affordable, clean and safe place to live which provides a high-quality of life, beautiful surroundings and top recreational facilities? Look no further than Woodridge Place, our land lease community in Summerside, Prince Edward Island. 
Land lease – a cost-effective homeownership model which allows people to own the home but lease the land that it's situated in – is becoming a popular way for people to live and own a home in certain communities that they otherwise may not have been able to afford. 
For those not familiar with the concept, land lease provides an alternative way for people to buy, bring or rent a home. You can learn more about land lease here. 
Ultimately, it gives people the opportunity to live in sought-after communities at a lower cost without sacrificing things like local amenities, recreational areas and access to transportation links. 
In an exciting chapter of growth, Woodridge Place is now in Phase 4, which has added 24 new properties taking the community to 192 lots, spanning across a substantial 55 acres of land.
sitting on a quiet, peaceful and scenic street, Woodridge Place , but is also in easy reach of the hustle and bustle of downtown Summerside offering the best of both worlds. We'll go into more detail about the perks of Summerside later!
The community itself possesses many features and benefits: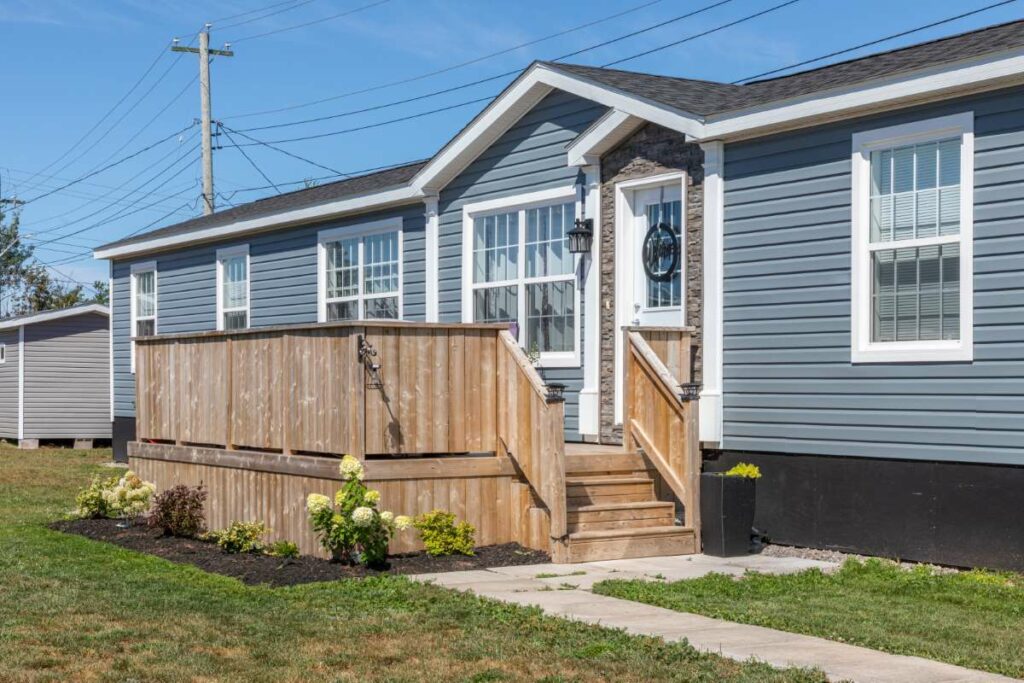 Although the responsibility of maintaining the property lies within your hands as the owner, Woodridge Place has a dedicated Community and Maintenance Manager, who will take care of all of the communal areas of the site, like the landscaping, and snow removal.
Gravel/soil and seed will all be provided on an annual basis to assist in the care of the property too.
One of the biggest benefits that the community boasts is that it caters for everyone. So, whether you're a single occupant, a couple or a family, you'll find that Woodridge Place is a site that can offer something for everyone. 
It even has a five piece children's playground – making it a suitable community to bring up a family and keep the little ones entertained.
The community is a short distance from many amenities that make Woodridge Place an enjoyable and desirable place to live.
Just five kilometers away is the Green Shore seaside area, which is accessible all year round. Come rain, snow or shine – spread across 600 meters of sandy shoreline – the seaside plays host to a number of winter and summer sports, festivals and community events throughout the year.
Within close proximity is the Credit Union Place Sport and Recreational Centre, which has a walking track, gym, swimming pool, restaurants, an aquatics center, bowling facilities and also holds various sporting events and concerts.
A bit further – around seven kilometers – and you'll find a Shoppers Drug Mart, Atlantic Superstore, Sobeys, Canadian Tire, strip malls and the Country Fair Mall.
Lots for Sale at Woodridge Place
Now that you're aware of some of what the community has to offer, here are a few of the Canadian Apartment Properties REIT lots we have available on this land lease community.
89 Megan Lot 180 – $189,000*
Two bedrooms
One bathroom
16×66 sq ft
39 Waston Lot 173 – $230,000*
Three bedrooms
Two bathrooms
16×74 sq ft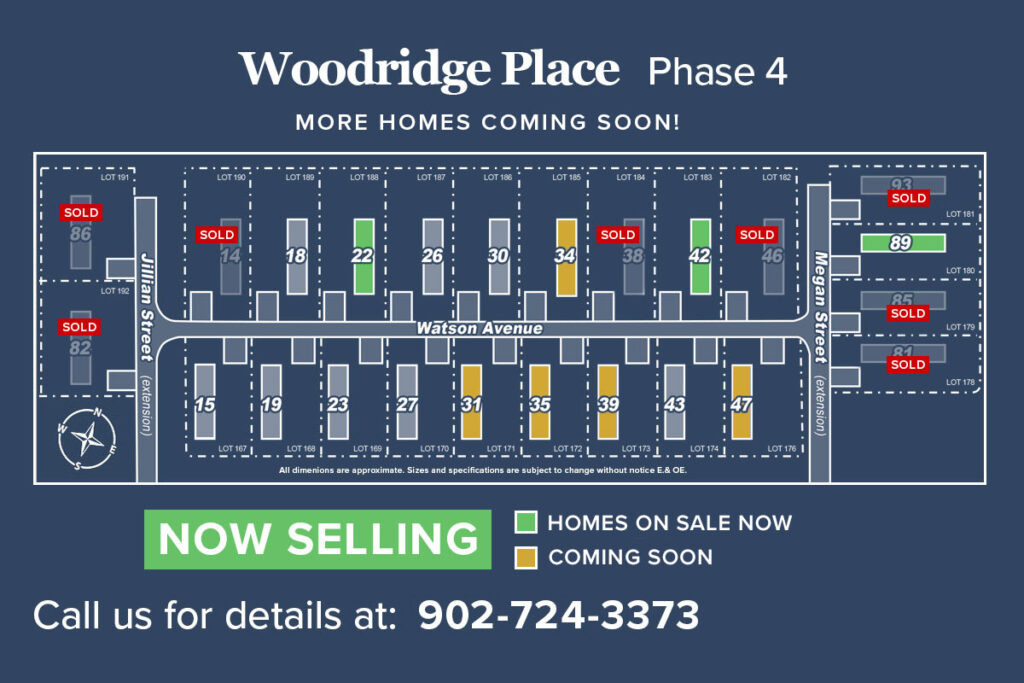 With all of these wonderful detached, one-storey properties you get: two sets of steps, painted skirting, a stone walkway, a paved driveway with two parking spaces, lamp posts by the driveway, professional water/sewer and electrical hook-up, electric heating and a permit for your home. 
Each home has an estimated property tax of $1,500+ per year and lot rent of $255 – $275.
The purchase price covers the price of the home, taxes, and setup
Communal maintenance by Community Managers
Access to amenities 
Any applicable taxes on the purchase of your home
Monthly lot rent
Fees for water, taxes etc
Utilities like hydro, heat, cable or internet service
Across the Prince Edward Island, property prices have increased as the Canadian housing market continues to boom. In Summerside, the average price for a detached property has reached over $312,000. 
These figures are relatively affordable compared to the average Canadian property price, which sits at around $748,450 – a 21% increase since last year. Places like Greater Vancouver and Greater Toronto can see you fork out over $1,000,000 for a property, so Prince Edward Island is a fairly low-priced option in contrast to other provinces in Canada.
For an even further cost-efficient approach to homeownership, consider a land lease property on Woodridge Place; a property on the higher end of the market here is over $189,000 less expensive than the average price of a property in the area. 
A lower property price means less down payment and lower mortgage payments – a win-win when it comes to freeing up some cash for other life necessities and pleasures. 
So, if you're looking for a home that doesn't cost you an arm and a leg but still offers all the things you need to live comfortably, a land lease property in Summerside may be the place and homeownership method for you!
What Is It Like to Live in Summerside?
Now that we've covered the site itself and have discussed the affordability of Summerside, what is it actually like to live there?
Summerside is Prince Edward Island's second largest city and prides itself on diverse career and business opportunities, 'world-class' recreational facilities and growing industrial, commercial and agricultural bases. 
The city boasts rich cultural heritage, quality healthcare provisions and excellent schools, making it a fantastic area to live, work, bring up a family and retire.
The province of Prince Edward Island is quite a small place at around 225 kilometers (or 140 miles) long. This makes Summerside unique in its accessibility to other places. 
To put it into context, it would take just three hours for you to drive from one tip of Prince Edward Island to the other, providing you with plenty of opportunities to get out and explore other areas on the island, which are on the doorstep of the city.
Downtown Summerside – easily accessible from Woodridge Place – is filled with everything you'd expect from a city: office buildings, attractions, specialty shops and restaurants. It's also no exception when it comes to cultural experiences – there's plenty of choice from theaters, to Curling and Yacht Clubs and Art Centers.
All of these blended with seasonal outdoor entertainment, fireworks and festivals are just some of the elements that make Summerside a fun and special place to live.
Although land lease communities have been around for some years now, it's only in recent times that people are becoming aware of what land lease is so we're here to clear up a few of the things that we frequently get asked. 
You can read more of our FAQs here.
Fancy yourself living in the fast-growing Woodridge Place? If you're interested in any of the properties we've listed above, contact Community Manager, Leisa Boudreau, on 902-724-3372 or email l.boudreau@capreit.net for more information. 
To keep an eye out for more future properties on Woodridge Place or to find out more about our other land lease communities, head to our website.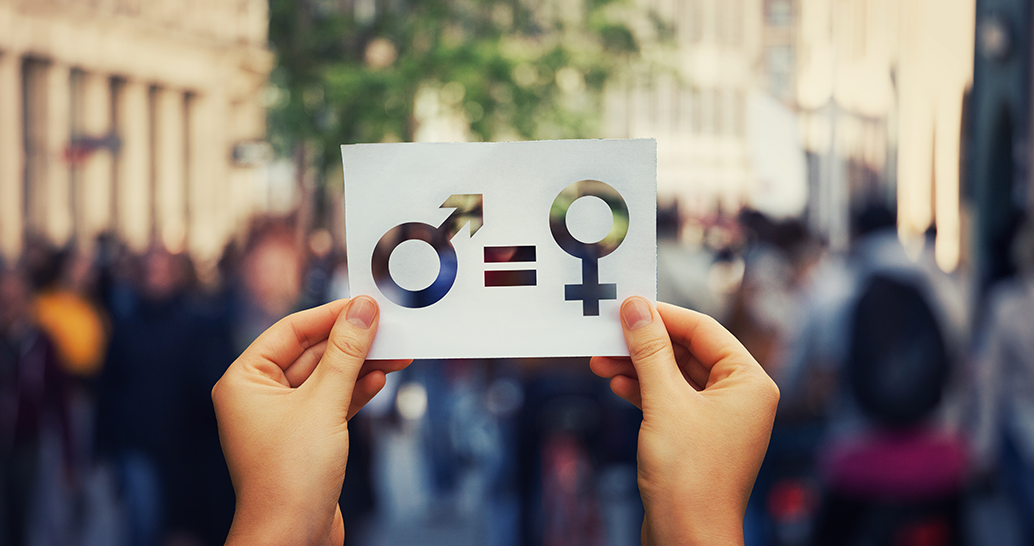 Equileap's latest report shows that only 28 companies globally have closed the gender pay gap, and just 18 have achieved gender balance at all levels. …