10 helpful tips to keep your dog happy in an apartment.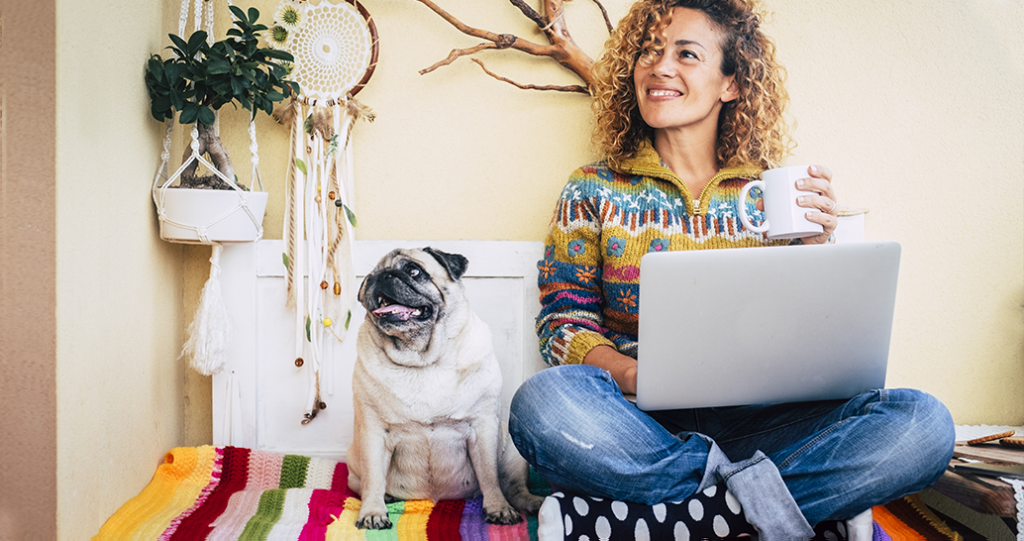 Our furry friends are the joy of our lives, and we are the joy of theirs! Living in an apartment, condo or other small space can provide some difficulty when it comes to keeping our pets happy. We want to help you and your fur baby thrive in any setting, so we have come up with 10 helpful tips to keep your dog happy in an apartment.
Keeping your dog happy in an apartment will mean making some commitments and concessions for the benefit of your pet. Even if, when you and your furry friend found each other, you had thought of giving them a backyard or large space to play, dogs can be just as happy in an apartment! From friends to local parks, dog walkers, interactive toys and doggy daycare, there are plenty of ways to keep your pet happy and healthy in an apartment.
This will look different for each dog. You know your dog best, including their tolerance for exercise. As the saying goes, a tired dog is a happy dog! Take some time to check out your neighbourhood for walking trails, pet friendly activities/places, and dog parks in the area. Exercise doesn't just mean physical exercise; dogs need to be mentally stimulated as well. If you are leaving your dog alone for extended periods of time, make sure they are physically and mentally tired out so they can peacefully enjoy some rest while you're out.
Signs your dog isn't getting enough exercise include:


Weight gain/overweight
Withdrawn behaviour
Excessive barking, whining, or restlessness
Destructive behaviour, like chewing or scratching
Pacing or unsettled behaviour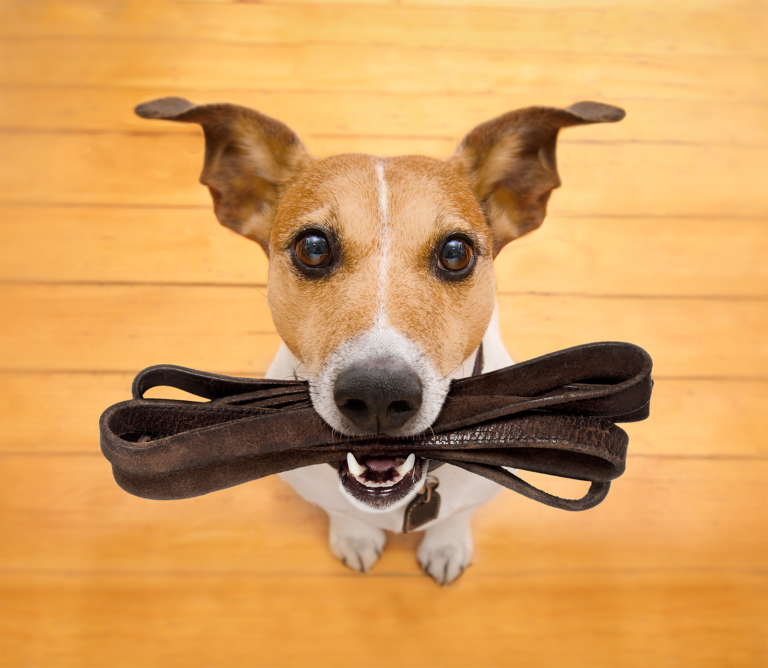 Depending on your pet's personality, they'll be able to handle spending different amounts of time alone.  Doggy daycare is a great option if you'll be away from home for longer periods, or you can opt for a dog sitter through a popular app like Rover.  Dog walkers are also a great help if you're not around during the day and your dog doesn't have space to run.  An hour walks in the middle of the day, especially with other dogs, can be a great way for your pet to socialise and get out their extra energy!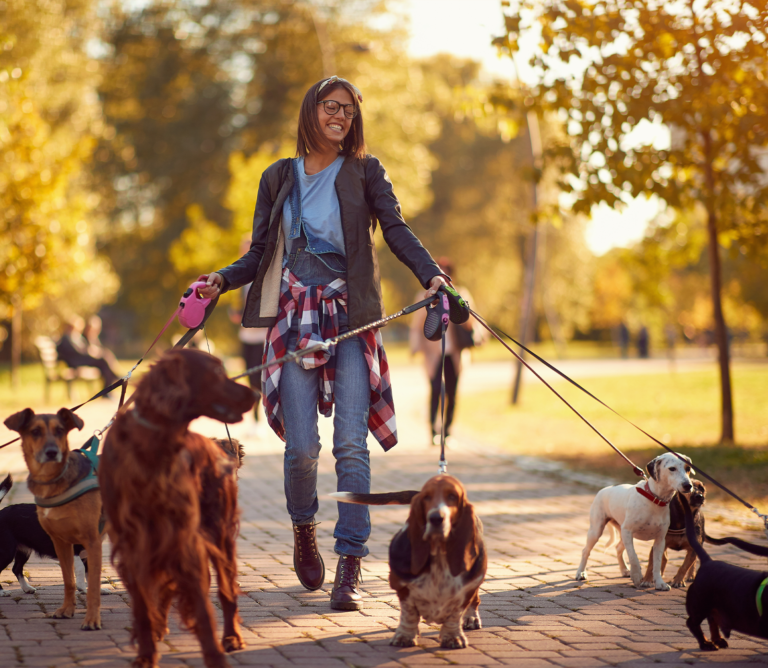 For some people this will be a crate, for others a bed, nook or specific spot on the couch. You want your pet to feel safe in their home and it is up to you to create that safety. Get your pet used to spending time in that spot both with and without you. Make it a place they can curl up and enjoy when you're out or when you need some quiet time.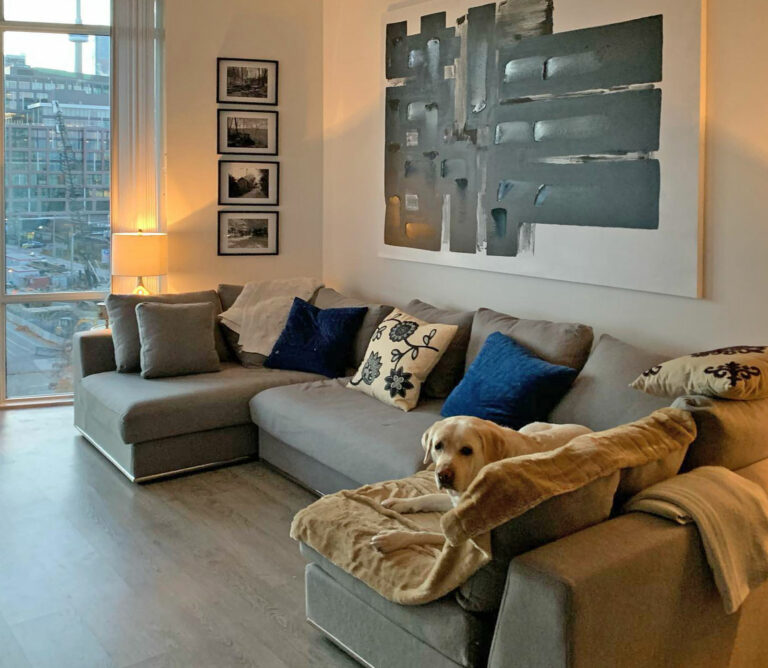 Interactive toys keep your pet stimulated and engaged for long periods of time; in some cases, they can also dispense treats! 
For dogs we would recommend:
Treat balls or treat puzzles
A Kong or any type of toy that can be stuffed (these can be filled and frozen, so they last longer)
Treat dispensing toys that involve lights or pressing buttons
 Interactive tail toy (wiggles, vibrates and barks)
Bully sticks, hard rubber chew toys or bones (these can also be frozen) – however make sure to supervise your dog to avoid choking or injury
Scroll to the bottom of this post to browse all Canadian Apartment Properties REIT pet friendly buildings.
Finding the right apartment for you and your pet means checking certain boxes. Is the building noisy? Overly noisy buildings can put stress on your pet and can lead to excessive barking from your dog. Do your best to find a quieter apartment to keep you and your pet happy and healthy.
Other things to consider are being close to or on the ground floor to make it easy to take your dog outside, whether your building and area have pet friendly amenities, if there are other happy pets in the building, and if you have your "pet necessities" close by (groomer, vet, pet store etc.).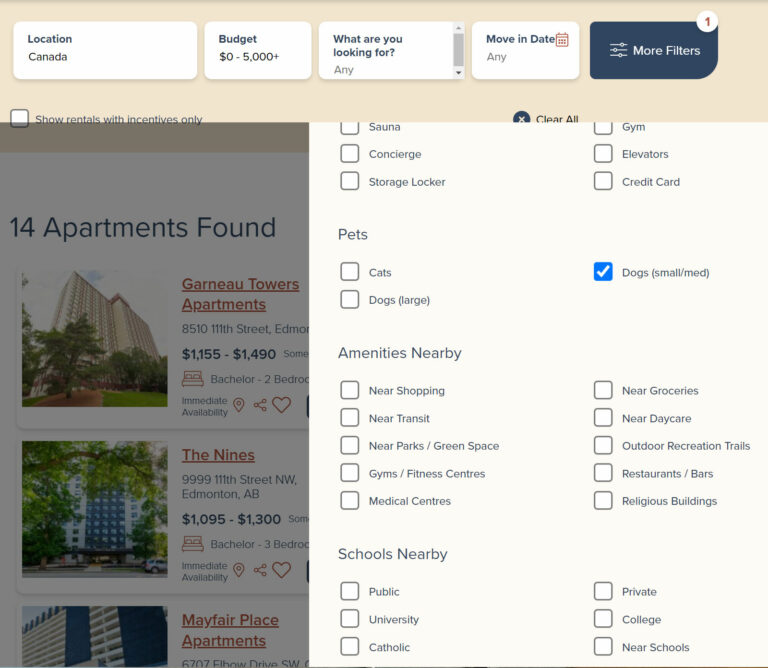 In order to keep your pet happy and calm in your apartment, make sure they get to socialise with other people and animals as often as possible. Make an effort to befriend other dog owners in your neighbourhood and build your dog a circle of friends. You never know, you might just meet your soulmate or new best friend chatting at the dog park.

If you do have to leave your pet alone in your apartment, try leaving them with some background noise. There are plenty of options made specifically for different pets. From dog or cat TV to soothing music, sounds of other dogs or bird sounds to keep them company, this is a way to keep their senses engaged and help them feel less alone! Another great option is an interactive camera (like a Furbo) or a recording of your own voice to keep them company.
A routine is so beneficial for your pet. It will keep you and them grounded and calm especially during the week. Even if your routine isn't scheduled to the minute, a general idea of when they can look forward to food, walks, cuddles and more will leave you both feeling happy and at ease. Make sure to include some time to unplug -animals are smart and can tell when they have your undivided attention.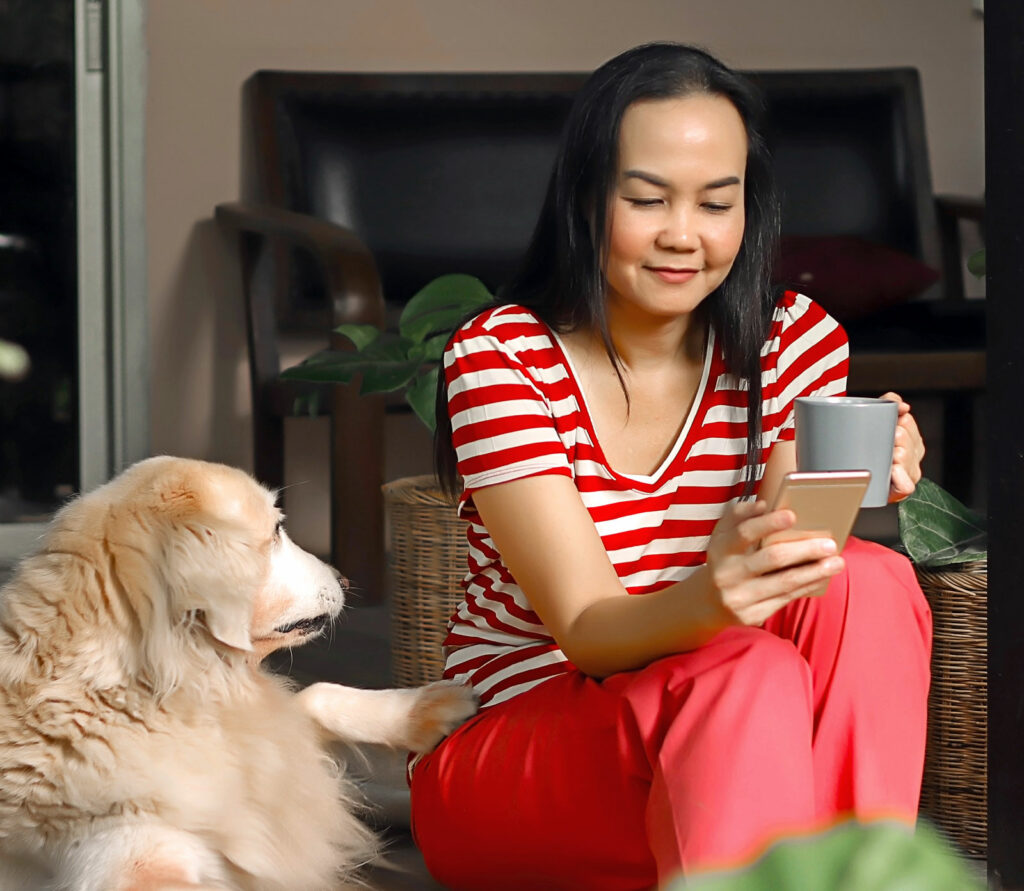 Boundaries are everything, especially in small spaces! It's important your pet knows exactly what the rules are. What is allowed and what's not allowed. Are they allowed on the furniture and in the bed? What kind of play is allowed inside? How much noise is too much noise?
Make sure you are clear on the rules before bringing your pet into an apartment so there is clarity for the both of you. Pets look to us for all the answers, sending mixed signals is the easiest way to confuse and upset your pet.
This may seem like a given, but when things get busy this can sometimes be overlooked. Your pets ADORE 😍 you, and you adore them.  If they don't have a huge amount of space to run, prioritise other forms of play, training, and FUN!
There's nothing quite like the bond we have with our pets, invest in quality time together and take one day at a time.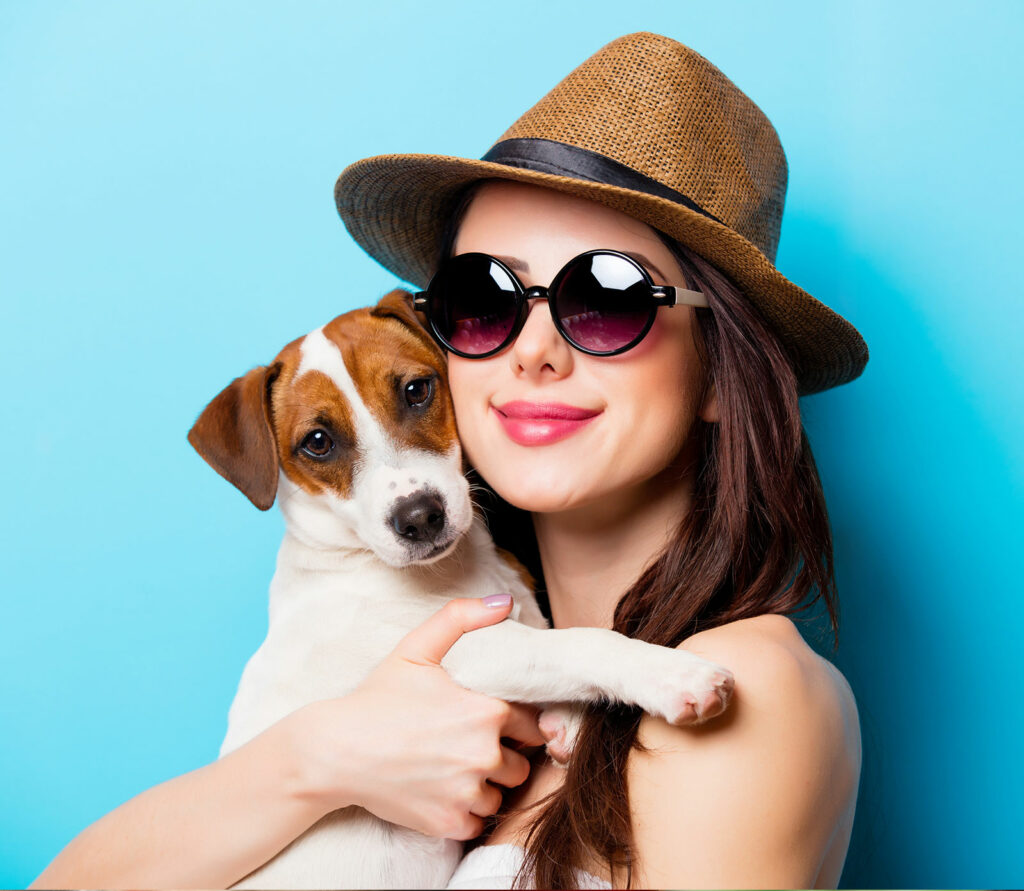 Although there can be challenges to living in an apartment with a pet, it is also so rewarding! With a little extra care and attention, you and your pet can enjoy a full and exciting life together!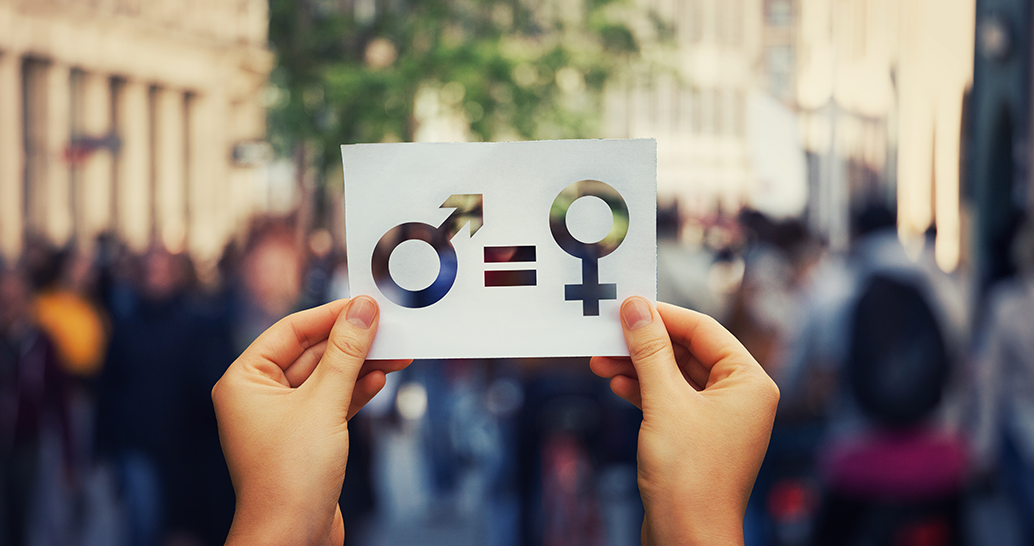 Equileap's latest report shows that only 28 companies globally have closed the gender pay gap, and just 18 have achieved gender balance at all levels. …